Our time on Mallorca, Spain was kept on a different clock than usual. We slept late, ate dinner long after the sun went down, and bedtime was never before 11pm for anyone. We also kept a very different pace. The only thing that we had scheduled the entire eight days on the island was a boat rental. Every day started with breakfast on our rooftop terrace and a discussion about which beach to go to.
As such, we didn't see too many sites (although the Gothic Moorish cathedral,Le Seu, in Palma is a beautiful, giant Notre Dame look-alike, made out of sandstone). Our family fav list reflects our quiet, peaceful island adventure.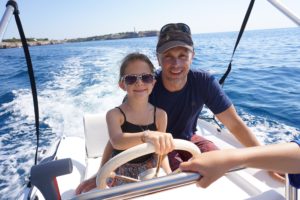 1.Boat ride- We rented a tiny little motor boat and took it out into the open sea. We got to explore little hidden bays (calas) and both kids were captain of the ship. The only downside was that the anchor was missing from the boat, so we couldn't "park and swim".
2. S' Aramador beach- Located in Mondrago National Park, this beach took our collective breath away. Even pictures don't do it justice. It is connected by a walkway to Mondrago beach and both have the clearest water and most beautiful sand I have ever seen.
3. Swimming in the Med- I dedicated an entire post to this, but the whole family unanimously and enthusiastically agree on this one. Sylvia and Noah both felt pride that they swam out to buoys by themselves. Josh loved jumping off the floating dock with the kids. I loved it all.
4. S' Arraval bakery– Right around the corner from our Airbnb, we discovered this little bakery. We'd walk in the morning together and pick up freshly-baked pastries. The Majorcan ensaimada was a new pastry not to be forgotten.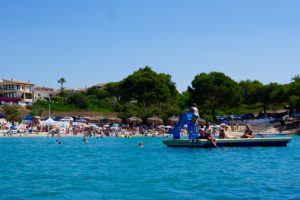 5. S'Arenal Beach– Our "local" beach, this was a 15 minutes walk for us. We loved the mix of ages and people. One day we saw a geriatric water aerobics class, another we saw a vendor selling colorful beach coverups, drawing women from all over the beach to try them on in an impromptu pop-up shop. A lovely mix of locals and tourists, we will miss this beach the most.
Our time on Mallorca, the largest island in the Balearic islands, was our most relaxed on the trip. We only wish that we had more time to explore the other islands. We will be back.