On our drive to the tippy-toppy north of Scotland, I happened to spot an unassuming building called the Geological Exhibition and Shop. Some of you already know this, but I have been quite taken with rocks and minerals from a very early age. The darkened room of gems in the Natural History Museum was always a favorite of mine, as was smashing rocks open in the eternal search for a geode. The kids have inherited this interest and enthusiastically ooh and aah at all things mineral, always wanting to add to their rock collections.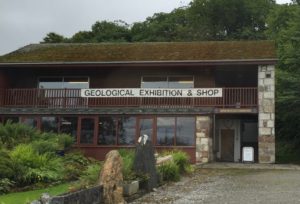 So, I thought this little place might make a nice stop on our return trip/long drive to the Cairngorms, a Scottish national park. Four days later, I kept my eyes peeled and nudged Josh at the turn off. "Where are we stopping?", the natural, good-natured question came from the backseat. We usually share the day's plan in the morning so the kids know what to expect. We are not on a schedule and are not keeping a very clean itinerary, but we do like to keep them apprised so they don't feel like they are just floating aimlessly through the universe.
They are agreeable little creatures, and when they saw that the exhibition also had a "shop" in the name, they jumped excitedly out of their boosters.
We meandered into the exhibition first. The first level was all ancient fossils and petrified wood. There was no one collecting tickets, no one guarding the collection. It was like a personal rock menagerie gone mad. Lovingly labeled and marked, this was a special place. We noticed that the second floor had a promising sign called "mineral room". So we clamored up the old wooden stairs.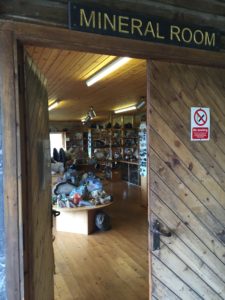 I was gobsmacked. I never even get to use that word because it is never, ever applicable. Here, in the tiny hamlet of Golspie, Scotland, was a mineral collection that rivaled any that I have ever seen in any museum. It was wow-wow-wow.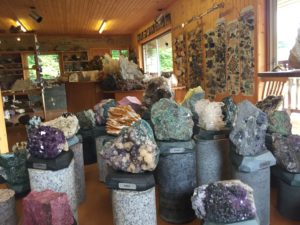 Even if you don't think rocks are that cool, you would reflexively think this was impressive. Wall to wall geodes and crystals, every color of the rainbow,were jam packed in a room that looked like a ramshackle ski chalet.
The kids freaked out. We freaked out. It was fantastic. After we spent about 20 minutes peering among the gorgeous and prolific collection, we, somewhat dazed, went to the shop in search of a momento. The kids both got small bags of polished rocks, Sylvie picked out her own stones one-by-one. Noah went for the mystery bag. It was all smiles as we piled back into the car.
I used this Geological Exhibition and Shop as a teachable moment. We had set on our day with the idea arriving in the Cairngorms as our Big Moment of the Day. As it turned out, this little spot turned out to be such a gem. Oh, that pun was too easy. I had to use it. "See, kids, sometimes it's not just about where we are going. Sometimes the getting there can be just as much fun. It can be about the journey just as much as the destination." I saw a glimmer of understanding in Noah's eyes… Yes, my life lessons are making an impact, teaching them to be evolved humans!… "Mama, did you see THIS rock in my bag?"
Oh. Perhaps my lesson did not make as much of an impact as the beautiful little piece of rose quartz that he was gripping. That's ok. It was a great reminder that travel is so much about discovery and being open to unexpected stops. Sometimes being a parent is about the journey, not just the destination.