Torino was the host city to the 2006 Winter Olympics. That was a good sign to us that winter sports couldn't be too far away. In fact, they are not. We are typically a Mammoth mountain family in LA. It's a nice resort town with a ski resort that is, well, pretty mammoth. It is at least a five hour drive from LA. Over the past ten+ years we've taken lots of fun group and family trips there. But, it is not something we do more than twice a year because of distance, expense and effort required. Skiing in Italy is a lot different than California skiing.
First of all, in just a one hour train ride from Torino, we can reach the Italian Alps. For a California car family, it is really nice to sit together and stare out the windows as the alps quickly approach. The first of the resorts is called Sauze D'Oulx, and is connected to an expansive ski area called the Vialattea (milky way). It is possible to link a number of resorts, skiing between/among them, and even cross into France.
Next, the daily price of a lift ticket is about 1/3 of the cost as are ski rentals and ski lessons. We were shocked by how inexpensive the prices are. We have done a number of trips to the mountains already this winter. We have done a few day trips where we take an 8am train out of Torino and are skiing by 10am.
Last, as one might imagine, one of the perks of skiing in Italy means you are still EATING in Italy. So, yes, you can get a burger at the mid-mountain restaurants. But, you can also get homemade lasagna, or polenta with cheese, or wild boar (all things that we have eaten on piste).
This past weekend we stayed in a hotel for a couple of nights, opting for a Friday evening train. This was really nice for a few reasons. Namely, we arrived at the mountain with time to still have a drink before going to bed. We got to wake up with the snow falling, have a big breakfast and amble our way to the slopes. It also meant we got to ski two days in a row.
Sylvie has been skiing for a number of seasons now, typically just once or twice a season in Mammoth. Consistent with her personality, she is a fearless, fast skier who likes to take the lead on the slopes and really focuses on her form. Noah has been a bit more timid, as he is not really a speed demon or thrill seeker. But, something about the Italian alpine air clearly gave him some bravado that he didn't have in the US. He flies down the hills now, racing his sister and egging her on. His athleticism is really showing, as he quickly figured out how to make his turns faster and better on his own.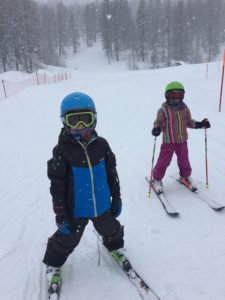 Our time on the mountain together feels a lot like when we climbed the via ferrata in the Dolomites this summer. Josh and I keep pinching ourselves, so proud and happy that we can ski together as a family; that we can watch those little kids streak down the mountain in a blur. It will not be long before they will probably have to wait for us at the bottom of the hill. But, for now, we really ski like a team. The best part about it, as it has been with so much that we do here, the kids really like hanging out with us. At the top of a run, Sylvie said "Mom, you go first". I know that she won't always want that–so I am enjoying it for as long as I can.