As we are counting down our last 30 days in Europe, we've embarked on our farewell European tour. The truth is, it is almost exclusively an Italian trip (if you can't beat 'em, join 'em). But, we decided to cross the border once more, to Switzerland. We are a mountain-loving family, and couldn't resist a week on the other side of the Alps. So, we booked seven nights in Zermatt.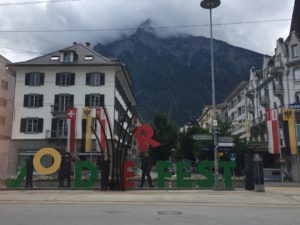 Getting there was much nicer than our last trip to Switzerland (when we got an expensive speeding ticket and Josh had to drive through crazy-long tunnels and white-knuckle mountain passes). This time, we took the train (by way of Milan) and arrived in Zermatt in the same amount of time that it would have taken us to drive. We also had the added benefit of walking right into an annual yodeling festival in a town called Brig where we transferred trains. We walked out of the station into a sea of people wearing leiderhosen and silly hats. It was surreal and funny and not Italian.
Anyway, it was much better to take the train because Zermatt is a car-free city. If you want to drive there, you have to park your car in a nearby city and take the train anyway. So, the only vehicles on the roads are service trucks and little taxis that shuttle all the wealthy people to their hotels.
I mention wealthy because Zermatt is actually breathtakingly expensive. I know that we've had it really good living in a smaller Italian city with a relatively low cost of living, but Zermatt makes NYC look cheap. A hamburger will cost you $30. That is all that I'll say about that (except that we were happy to make breakfast and picnic lunches).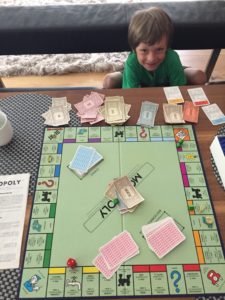 We stayed at an Airbnb that required a 15 minute walk up from town. But, it was worth it. The view from our balcony (kids standing on the balcony in the pic above) was a postcard perfect view of the Matterhorn. That is, by the way, the big deal about Zermatt. It is home base for staring at, visiting and taking pictures of the iconic peak. Instantly recognizable (thanks Disneyland), it is one of those natural wonders that still inspires, even after knowing what to expect.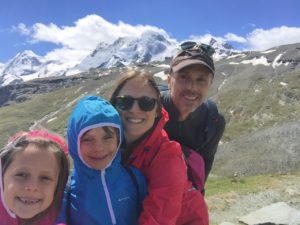 What is also magical about being in the Alps is the ever-changing weather. Every morning we would go out on the balcony to see the status of the Matterhorn-view. Some days it was totally gone. Some it was shrouded at the top. There was a night where it was backlit by the moon and scattered with stars.
One day we took the a scenic train up to 10,285 feet, a line that takes you directly across the valley from the majestic peak. Another day, we rented mountain bikes. We also did a bunch of great hikes and the kids did an adventure park with Josh. It was just the mountain experience we were looking for. But, as the train crossed back into Italy and the German started fading for the more familiar Italian, we were all happy to be back on what has become home turf. And I have never been so happy to eat pasta in my life.