The following is an actual transcript of a completely fictitious interview that never took place.
A correspondent for La Dolce Vita Family recently sat down with Josh to discuss his time at the sculpture camp, or Il Campo.
Interviewer: Josh, you could have done pretty much anything with your "personal time" in Italy, so why a sculpture course?
JH: It's a good question. As with most of my (good) ideas, I think Jessica actually gets the credit for this one. One of the reasons we chose to take this year in Italy, was to wander from the routine of our schedules and careers, and to explore other interests. I'll admit that I had started to feel pretty one-dimensional as an individual – trying to balance between family and career left little time to pursue anything else. I've had interest in art, though maybe better described as an interest in building things with my hands, but I don't think that my demonstrated skills at birthday cake construction and pumpkin carving (I'm still holding the trophy from the 2015 contest) would pass as artistic abilities in many circles. And so while already challenging the right side of my brain with Italian language studies, I figured why not push it a bit further.
Interviewer: But why sculpture? Why not painting or drawing or…opera?
JH: Thanks for your confidence in my vibrato, Interviewer. I think I was drawn to the simplicity of sculpture. That's not to say that I thought it would be simple in anyway. Rather, I really liked the idea that you start with a stone and have to create something by only taking away from the existing shape. It seemed very tangible. Plus, I think that all the rock climbing over the years left me with a real appreciation for the feeling of stone in my hands. But to be 100% clear, Jessica found the camp.
Interviewer: So what camp did you attend?
JH: I attended a 2-week, beginner course at Campo dell'Altissimo. It's run by a German artist who's been practicing and teaching in Azzano, Italy for over 30 years.
Interviewer: What was Azzano like?
JH: Azzano is a tiny Tuscan village located high up in the mountains of the Seravezza valley. It's not far from the Mediterranean coast, with the closest town being Pietrasanta (where I arrived by train). Azzano is in the center of the marble universe – world-famous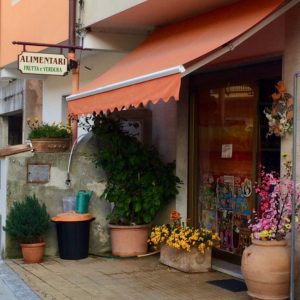 Carrara is just 20km to the north. The village has one store where you can buy basic food items like cheese, salami, fruit and vegetables. It's open from 7:40am-12:30am and 4:30pm-7:00pm, except Sundays and Wednesday afternoons, and unless the proprietor, Nina, decides to change the hours that day.
There is also one restaurant, named the Michelangelo, of course, where you can have coffee, aperitivo or a delicious Italian meal (but not pizza unless it's Fri, Sat or Sunday when the pizza maker comes). It's sort of the ristorante, bar, tabbachi, butcher shop and central gathering place for Azzano. Stop in around 8pm and you're certain to see 4-5 octogenarian men sitting at the front table, watching Series A soccer highlights (and arguing endlessly). Sandro, the owner, will be happy to see you…or maybe he won't be, it was always difficult to tell.
Interviewer: Was there a nice view of the valley?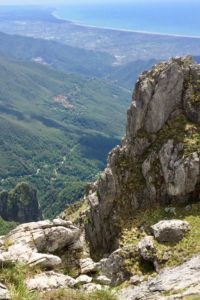 JH: It's a gorgeous place. The valley is incredibly steep with the 1,586m Monte Altissimo at one end and the Mediterranean Sea at the other. It's very lush, at least at this time of year, with thick growth of trees and bushes, many different wildflowers and the occasional stand of olive trees mixed it. The mountains have a dramatic ridge line, showing what appears to be a very old mountain range based on the erosion and scree. But obvious reminders that this is marble country are everywhere – there is a working marble quarry directly across the valley from Azzano and you can see an exposed, mountain-top quarry called Ceviole above the village.
Interviewer: Anything else about the camp or the area that you'd like to share?
JH: Back in the 1500s, Michelangelo himself was commissioned by the Medici family to come to the Seravezza valley in order to evaluate and establish two marble quarries.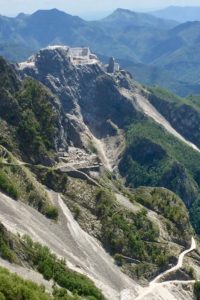 It turns out that Carrara and the other established marbles sources at that time were located across the border in Liguria (now another Italian region, but in those days effectively a different country). So, if the Medici family needed marble for their next statue or Duomo or some other beautiful Renaissance-era masterpiece, they'd have to pay a hefty price to the quarry and the ruling family of Liguria. But since Seravezza (and Azzano), were located in Tuscany, the marble there was essentially already theirs, and free. Michelangelo identified two suitable quarry sites and produced the designs/drawings for the quarry and the necessary roads/infrastructure. Of course he did, that guy did everything.
Interviewer: Thanks Josh.  We look forward to hearing more about your experience…and seeing your work!
JH: Thank you, Interviewer.