My brother-in-law asked us today on FaceTime if we knew what day of the week it is. The honest answer was we were not sure. Vacation has officially set in. We travelled to the northern most point of Scotland yesterday, John O'Groats. For those of you in LA, that name means a delicious breakfast spot on Pico Blvd, just a block from our house. If you haven't been there, get the eggs bruschetta. You won't regret it.
However, this John O'Groats is the end of the terrestrial line for Scotland. It is a latitudinal brother of Juneau, Alaska. Sunset tonight, 10:02pm and sunrise tomorrow is 4:32am. We would be in the land of eternal sunshine if it wasn't so cloudy. It is windswept, coastal and gorgeous in its remoteness. It marks the completion of the End to Ender, which means cycling the whole 876 miles of Scotland from tip to tip. Cool. For us, it is the first real relaxation of the trip; we signed up to stay here for four nights.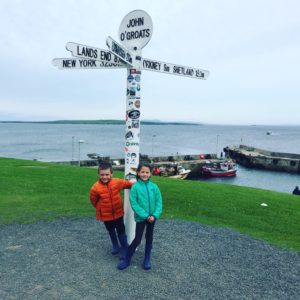 There is not a ton to do except walk along the beaches, taste whiskey (still don't like it) and gaze at the Northern Atlantic. We may take a ferry over to the Orkney Islands, a 40 minute ferry ride, or we may just watch the ferry depart every day.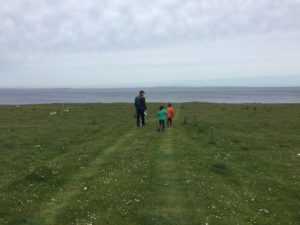 Today, we set out on a hike that was to take us to one of the most incredible seashell beaches to note. My mother, a lifelong seashell enthusiast, would have been a good addition to this hike. We started at the John O'Groats official sign post and wound our way along the coast. Part of the hike was through fields and many, many sheep. Then, we descended onto a beach that was literally covered in shells.
We knew that there was a special shell called the Groatie Buckie, which was supposed to be small, hard to find, and very beautiful. Officially called the Northern Cowrie (Cyraea europaea), it is known in the Orkney dialect as a "Groatie Buckie", finding one of these shells is considered to confer good luck and many people have a small jar of them.The family became obsessed with finding one. Then we did. Then we found another one.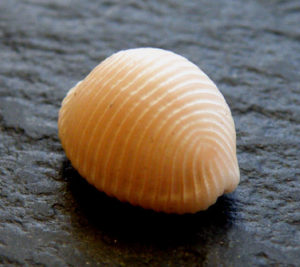 Two hours later, the Groatie Buckie count stood at 14. It is hard to describe how satisfying it was to lay or sit on the bed of shells, sifting through them carefully, to find these little treasures. And when one of us found one we jumped up and down yelling and dancing. The rest of the family would stop to celebrate as well. It was also amazing that we could find such simple pleasure as a family.
I told Josh that when the kids are teenagers and want nothing to do with us, we can remind them of the day that we were all Groatie Buckie hunters, and it was one of the best days of our vacation.