When Sylvie was just over a year old, we visited Italy and stayed in a little lakeside town called Stresa, on the shores of Lake Maggiore. Hemmingway waxed poetic about the town in A Farewell to Arms with good reason. It has been a vacation that always remained vivid in our minds. So, we decided to go back to Stresa, even staying in the same hotel (and room!) where we came years ago. This runs counter to our general policy of discovering new places to stay and go.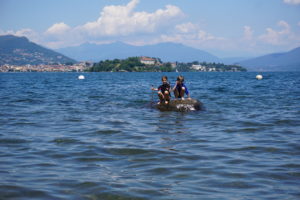 But, coming back to Stresa with an additional kid (that being Noah) and a bigger Sylvie was a sweet treat. The town is as charming and slightly touristy as I remember it. There are far more Italian tourists than anything else, due to ease of access from Milan. The "beaches" are not glamorous, but the lake is beautiful and refreshing. We stayed right across the street from the ferry terminal that runs boats to the picturesque gardened islands near the shores. The triumvirate of islands have a combo of manicured gardens, palaces and plenty of amazing fish restaurants. They are all owned by the Borromeo family and Isola Bella was lovingly cultivated as a wedding gift for a long-past aristocratic bride. We spent an entire day island hopping, the kids happily swam in the coolish lake water.
We had one of our best meals in Italy (yes, in the whole year) here at Osteria Mercato. It was also our first meal after crossing the border with Switzerland, so we were giddy with the delicious options. To note, we also decided in Stresa that we are going to train for a half marathon. The path along the lake was so pretty that it beckoned a run, even though, technically, I hate running. But, breezing past the stately hotel where Hemmingway stayed (pictured above), I actually felt like I could enjoy it.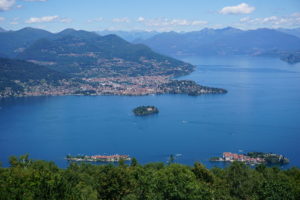 There is a gondola that you can take high up over the rolling hills that frame Stresa. We took Sylvie there as a baby. The 5,000 ft peak affords a beautifully panoramic view of the lakes region. We went back up and found that there was an alpine slide now added to the top of the peak. Kind of a mix between a self-driving rollercoaster and an alpine slide (described as a bobsled rollercoaster), Sylvie's eyes were wide with joy and anticipation. Noah's eyes were wide, but with neither of those emotions. I would best describe his mindset as petrified. So, Sylvie got to ride the alpine slide with me (roller-coaster lover and non-user of brakes) and then her father (a more responsible adult). Noah happily watched both descents and felt secure in his position as a hater of rollercoasters.
The time in Stresa flew by. As we boarded the train, bound for the Amalfi coast and our last railway journey in Europe for this year, Josh and I wistfully wondered when we would be back in Stresa. We miss it already, again.