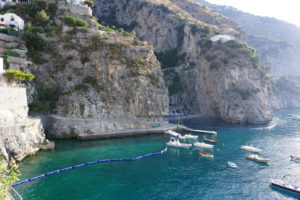 When planning for our Italian wind-down, we thought it would be fun to end on a super relaxing note. It is summer. It is hot and crowded. This is not the time to schlep around Rome. This is the time to get close and into the ocean. Two stops on the Amalfi coast seemed like the right amount of cliff-hanging adventure.
I say cliff hanging because, for the uninitiated, the cities literally hang over sheer cliffs that plunge to the ocean. The road connecting the city of Naples to the stunning coast south is a wonder of engineering and not for the faint of heart. Add to that the southern Italian drivers, the windy road becomes an adventure on its own. We'd been advised not to rent a car (too much hassle parking and also too death-defying). So, we had a driver transfer us to our various stops. Good call.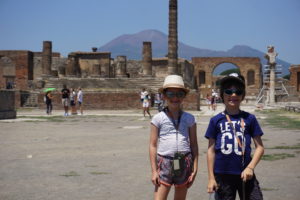 The only educational excursion planned was a trip to the ancient city of Pompeii. I visited there 20 years ago with my sister. I remembered fewer tourists, but the same eerie sensation that the city was just taking a break from existing (it was actually buried by nearly 20 feet of volcanic ash when nearby Mt. Vesuvius erupted in 79 AD). The kids were a bit disappointed because they thought there were "going to be frozen dead people standing all over the place". So, I guess UNESCO world heritage sites are not enough for macabre under-10 year olds. They did enjoy learning about the every day lives of the people of Pompeii.
We also took a hydrofoil to the gorgeous island of Capri. I think it lives up to its reputation, refined, touristy, expensive and worth a visit. Sorrento was our first chance to just swim, relax and start to talk about what it is really going to be like to be back in California. Our hotel was perched high over the ocean, so we spent hours in the pools facing the blue-blue sea below.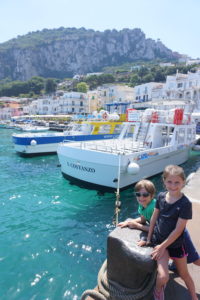 From Sorrento we moved on to Praiano, a tiny hamlet south of its big brother Positano. Opting for an airbnb, we had a huge deck, a neighbor with a kitten and two happy kids. The walk to our beach included a road-walk on the aforementioned crazy road and then about 600 steps down to the beach. Praiano requires good cardiovascular health, especially for the walk up. We arrived on the evening of the celebration of the patron saint of the city, Santa Lucia. Obligatory with these holidays, we have learned, are processions of children all in white, singing emanating from mobile loudspeakers and fireworks. Summer firework displays dedicated to various patron saints are as Italian as gelato, it turns out. It is awesome.
As we were driven away from Praiano (and after a protracted goodbye with the kittens), we went to the Naples airport to depart for our last vacation stop, the island of Sardinia. There is even less to do on Sardinia than on the Amalfi coast. We'll spend eight nights by the beach, eating our fill of fish from the Mediterranean and lots of pizza, I am sure. This vacation has been a marathon and this is our finish line.