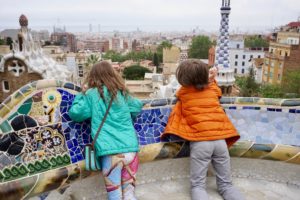 We had 10 days off for the kids' last official school vacation, so we decided to head out of Italy (how much pasta can one really eat? Sigh.). Last summer, we only went to the island of Mallorca, so we were excited to get the kids to see some of the Spanish mainland. Our itinerary was a four-night stay in Barcelona, two nights in Valencia and then a three day stint on the island of Ibiza.
I have already moaned and groaned about how overrun Barcelona seemed by tourists. But, it is still an incredible city with so much in its corner. Pretty beaches? Check! Delish food? Check! Great Gaudi architecture that looks like it came out of a dream? Check! As we sat by the marina, eating paella at Cal Pinxo, we were a very happy family. I was pleased to learn that Sylvie finds squid ink delicious. "Mommy, why does it taste so good"?, she asked. Oh, if only I had all the answers.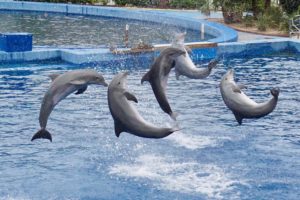 We took the train to Valencia and were happy to discover a sweet, underrated city. Turin, our home in Italy, is often brushed off as being "industrial" or a non-event. So, we appreciate a city that doesn't do such a great job with its marketing! Valencia was a city full of bustling squares, great street art, a beautiful central market and the biggest aquarium in all of Europe.
We went to the aquarium, Oceanografic, which was built as a part of a museum complex that was completed in 2004. It is a collection of space-age looking buildings, with swooping curves and lots of glass. Oceanografic was like a mini-Seaworld, complete with a dolphin show. Of course, the show was in Spanish, but dolphins flipping in unison in mid-air translate into any language.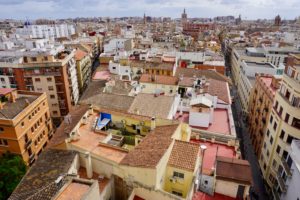 I was thankful that we had stayed in a city without any other headline tourist attractions. It allowed us to wander a city that felt like it was just doing its thing. Our hotel was in the El Carmen neighborhood, right next to a beautiful lace store, Bordados Zaplana, that hand makes lace for everything from wedding veils to table cloths. We climbed a tower that was a part of the ancient city's wall. It cost €1 each and we were the only people climbing around the ramparts for 20 minutes.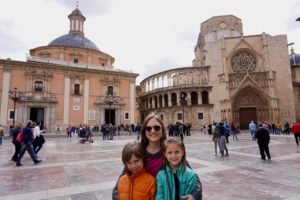 We made our way to Ibiza by way of the shortest flight I have ever been on (15 minutes). However, the alternative was a multi-hour boat ferry. If you know anything about our family, you know that we are NOT a seafaring group. So, we happily jumped over to Ibiza, where we ended our spring break staring at the ocean and braving the cold pool water. It was a bit pre-season, so the trade off for smaller crowds was spring weather.
After coming home, it was a good feeling to know that the kids take our travels in stride. Switching from Italian to Spanish, trying new foods and trudging happily for miles around new places, they have grown so much more in this year than I ever could have hoped. And they take pictures like this.