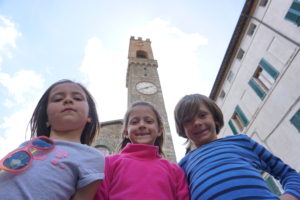 Warning, this is a true account of an actual day. If you are not in the mood for a self-congratulatory, detailed description of a vacation day in Tuscany, read no further.  I am in Tuscany with my family of four, and with my sister, Rachel and her hubby and two kids (Vivian and Colette). In the words of my sister, the day "was tossed together like a delicious fresh salad–sometimes you just work with what you got and it turns out so much better than what we expected it to". There are day trips that you plan all out, and there are days that you don't. This was one of those no-plan days.
Specifically, Wednesday May 10th, 2017. The sky outside the window of the Tuscan villa where we are staying was the classic blue of a day with some seriously sunny possibility. We all woke up around 8:30am. Ok, maybe 9am.The boys (Josh and Scott) went for a run. I did a yoga/stretch class with my niece Colette. We all reconvened and had breakfast around 10am: fresh coffee, a cheese plate with four types of pecorino cheese, jam from a local market and fresh bread, also fried eggs, yogurt with honey, cherries and strawberries. We played alternating games of soccer, badminton and tree climbing for another hour in the yard next to our villa. Leaving the house at noon, we had a 25 minute drive to Montalcino. It's a small, magical hilltop village and the only place in the world that makes Brunello wine.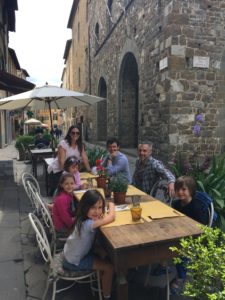 Somehow we secured two parking spaces in the small lot next to the castle in the middle of town. We attribute that to the parking mojo of our Italian mother, for reals. We strolled through the city lazily, finding a lunch spot. We wanted to do a wine tasting and have a nice lunch. We did both, at the same place, in a piazza. The kids ran around the cobblestoned piazza as we tried flights of Rosso and Brunello. We then found a leather shop where Sylvie procured a leather-flower headband and my niece Vivian got a navy blue tasseled purse. How could we beat that afternoon? Well, we had been tipped off by our gelato instructor (Yes. I said gelato instructor–we took a class and made four types of gelato the day before).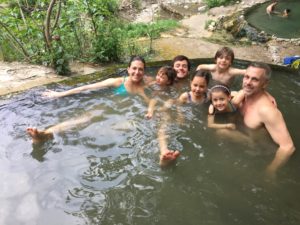 She told us about a series of hot springs that you have to hike into from the road. The hot springs were a wonder. There were just a few other families/locals and the water was deep enough to swim in (if you are under the age of 9 and really wanted to).
Then we came home and had a dinner of leftovers, with a fresh salad and an extra order of pork ribs from the restaurant down the road in for good measure. Our dessert was the leftover gelato that we had made two days prior. The kids were all exhausted from the hilltop jaunting/hotspring dipping. So, they all went to sleep like angels while the four of us hung out around the fireplace and drank a few bottles of red wine. My brother-in-law keeps pinching me to remind me that this is real. You really can't dream a day this good.