When we originally conceived of moving to Europe, I loved the idea of being able to jet off to another country for the weekend. So, when my little sister Rachel told me she had a layover in Madrid, after returning from the global climate conference in Marrakesh, I booked a flight to meet her. Aside from our week in Mallorca, I had only been to Spain once before. In fact, it was with Rachel, when we backpacked through Europe together 20 years ago.
Madrid has been on my need-to-go-there list for a while. I arrived early on a Friday, so had the day to myself before Rachel arrived from Morocco. It was a really beautiful fall day, and I spent the entire time walking around the city. It reads like a true European capital city, with wide avenues, incredible civic buildings and good ol' fashioned people watching.
I hadn't seen my sister since leaving the US in July. She is coming to visit Italy with her family in the spring, but that is a long time from now. It was a real treat getting to see her now. Added bonus is that we had a weekend all to ourselves!
We had dinner reservations for Friday night at a really cozy and pretty restaurant, La Maruca, in our neighborhood. It had been a long time since Rach and I have had a dinner just the two of us. It's amazing how much professional and personal ground we could cover without the usual interruptions of the husbands (sorry guys) or kids (sorry again). The weekend went by too quickly. By the time we had gawked at the Goya's and the sculptures in the Prado Museum and walked the length of the city to Plaza Mayor and the Royal Palace, our Saturday was almost gone. We rallied for an evening of soccer (both Madrid teams were playing each other, always an entertaining proposition) and more delicious Spanish food.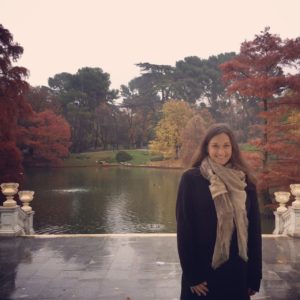 Unfortunately, Rach had to catch a midday flight home on Sunday. We only had time to take a rainy, quiet walk through El Retiro Park and off she flew. I felt pretty sad heading back to the hotel alone. To note, Rachel and I use many of the same beauty products, as sisters often do. She had an eyeshadow that is not available for purchase in Italy. It is my favorite and I was coveting it. After she left, I discovered that Rachel had slipped the eye shadow into my makeup bag. That is real sisterhood.