We have spent ten days in Scotland. We experienced the hottest day on record for the year, 81 degrees. It is a verdant and pretty country, with a clear pride in being part of the United Kingdom, at least for now. The Scots are friendly, funny and hearty–to generalize greatly.
There was much heated discussion about how impossible it was to narrow it down to only five great things. Our solution is to include an honorable mention. Notably absent from the list was food of any kind. We had a few nice meals, but nothing that really blew off our kilts.
1.Groatie buckie hunting- We have a whole post dedicated to this. Truly a trip highlight. Mix one part deserted beach with two parts treasure hunt, and it makes for quite an afternoon.
2.Dunrobin Castle– The "jewel in the heart of the [Scottish] Highlands", dates back to the 1300s. We loved it because it had gorgeous formal gardens and a falconry show where a falconer showed a very receptive audience his amazing menagerie of falcons and owls. Spellbinding.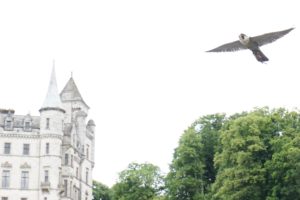 3. Tree Zone– Our first collective ropes course, this was an adrenaline rush for the kids and a moment that made their former rock-climbing parents proud.

4.Harry Potter Tour– A free walking tour in Old Town Edinburgh, this was a treat even for those not obsessed with all-things-Potter. For the kids (who are on book 4), they were entranced to see George Heriot's Schooland Edinburgh Castle, both major sources of inspiration for JK Rowling. We even got to see coffee shops where she would sit and dream up her books. So cool to learn at an early age what the creative process can mean for an author.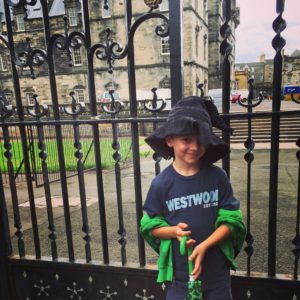 5.Whisky tour– Yup, they leave the "e" out of whiskey here! The Glenmorangie tour was a unanimous favorite. The science behind turning barley to starch to sugar and then to alcohol was an interesting lesson in organic chemistry. The smells of the low-slung room where the whiskey ages for 10 years were captivating to all, even the wee ones.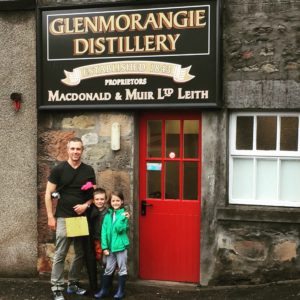 Our honorable mention goes to the Castle of Mey, where we got a private tour showcasing a castle where the royals still come to stay every summer. Prince Charles was arriving in two weeks. The animal center there included sheep (which the kids bottle fed) and a lovely, patient woman who taught the kids to spin yarn from wool.
Oh, um, Josh says don't forget Loch Ness. So, ok, Loch Ness. Post here. Tomorrow we are off to Spain. Goodbye English, hello delicious food and the Mediterranean.